Since I was a kid, I have loved popcorn. I'm crazy about the stuff. I remember making it with my family, enjoying it while watching movies or just the regular Sunday night "Wonderful World of Disney." I remember what the popcorn used to be like at movie theatres, before it became more of a profit center and less of an art. I have spent years perfecting my technique, and I can say without the least bit of modesty that my popcorn is the very best you'll ever eat. If you don't believe me, ask and I'll make you some. Or if you'd like to know how to do it yourself, read my instructional post from a few years ago:
A Guide to Making Perfect Popcorn
In the past few years, though, I've suffered a real loss. You see, the Ellis family of Murray, Kentucky used to produce the world's best popcorn. It was called Ellis Blue Ribbon Popcorn, and it was, in a word, perfect. It had a great butterfly/mushroom ratio, it had massive kernels that popped out big and fluffy, it had the perfect color and texture, and it had very, very few "old maids" (kernels that don't pop). For a while, living in Atlanta, I had talked a concession supply company into selling me one 12.5 pound bag at a time. Then they folded, and Ellis was nice enough to ship me the same amount at an even lower cost. Then tragedy struck.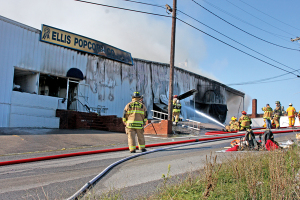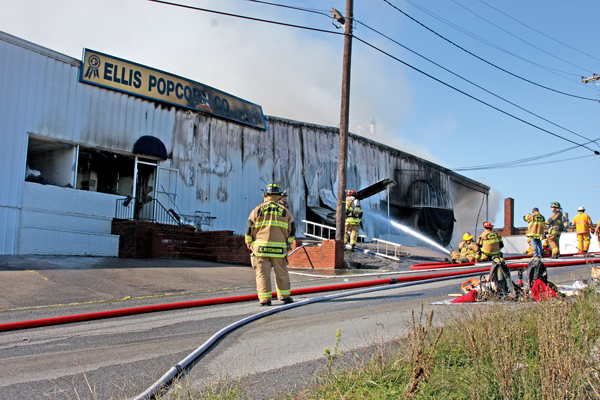 October 5, 2011. A fire broke out in the warehouse and processing facility of Ellis Popcorn. The fire devastated the 60-year-old company. Rebuilding the destroyed facility was infeasible. In December, needing to get back to selling popcorn quickly, the family purchased an existing popcorn processing facility in Ridgway, Illinois and immediately began packaging and shipping product. But being 120 miles from their previous growers took its toll. The popcorn wasn't the same, and every customer knew it. The move was a fatal mistake, and as of today, Ellis Popcorn Company no longer exists.
The growers, of course, are still there, but they're no longer being held to the same standards, and no one knows exactly where to buy the popcorn that was once at the zenith of the industry. So as of January, 2012, I had no source for known good popcorn. Nobody can make perfect popcorn from mediocre kernels. This was bad.
Oh, I tried. For a while I popped Orville Redenbacher's stuff using my methods, and despite being far from perfect, it wasn't bad. Popcorn is one of those odd commodities where there's no quick, easy way to judge quality. You can smell coffee beans, you can squeeze cantaloupes, and you can taste some things, but a good popcorn kernel and a crappy popcorn kernel look, feel, and smell exactly the same until you pop them. There are only two ways to find the really high quality stuff: trial and error, and reputation.
Fast forward to 2014 and the trip home from Chelsea's wedding. Allison, Raymond, and I stopped as we usually do at Panorama Orchard and Farm Market, near Ellijay, Georgia. We usually shop for apples, but they carry a lot of different farm products. On this occasion, I noticed that they had some popcorn in two-pound bags, labeled "Amish Country Popcorn." There were a couple of varieties, but a bag marked "Extra Large Caramel Type" caught my eye. Impulsively, we decided to give it a try.
I held little hope. In fact, the sealed bag sat there in the cabinet for several months. Finally, I decided to pop some up and try it. WOW!!! This stuff blew the lid open on my popper! It popped vigorously, and as advertised it puffed up into very large, well-formed kernels. It took butter well, tasted great, and had perfect texture. I had stumbled onto some truly excellent popcorn!
Now you can stumble too. I tracked down the source Panorama gets the stuff from, and you can order it directly from their site. (No, I don't work for them, nor do I get paid for inviting you to buy from them. I'm sharing a secret with you.)
Amish Country Popcorn: Extra Large Caramel Type
So popcorn is a treat again at our house. Maybe it will be at yours, too. Enjoy.