In retrospect, I should probably have never mentioned my hikes to Humpback Rocks as a teenager to my best friend, BC. The reference seemed harmless during that phone conversation. But I'm glad I did.
BC has been my friend for many years now. We met while at Full Sail Center for the Recording Arts back in 1994 or so. He soon moved to California and we kept in sporadic touch, visiting every so often. A few years ago he made the move east to a town a few hours north of here in West Virginia, and since then we've been able to visit a lot more often.
So the suggestion of meeting at Humpback Rocks, near my hometown and roughly halfway between us, did not sound completely insane. Nor did the hike. It didn't seem terribly intimidating the last time I did it, which was more than 20 years ago. But I am an extremely stupid man, a fact that will become apparent to you as you read this story. I agreed, and the appointed time came this past Saturday.
We gathered for breakfast at a small, popular restaurant in Staunton. The crew consisted of myself, BC, his wife, and his three kids, youngsters with boundless energy. At breakfast, BC had managed to crack a rib horsing around with one of his sons, and I gave him a hard time about making up excuses to get out of this hike. No, he insisted. It was ON. So off we drove to the parking area at Humpback Gap, near milepost 6 on the Blue Ridge Parkway, by way of the beautiful and scenic Rockfish Gap. We arrived around 10 AM to moderate temperatures, a sunny sky, and a very full parking lot. We wedged both vehicles in and set off.
It took very little time for me to realize what I'd gotten myself into. The kids were bouncing up the trail as if it were level ground. I was a lot slower. Old, heavy, out of shape, and unaccustomed to steep climbs, I'd forgotten just how strenuous this thing was. My lungs burned and my leg muscles strained. I became grateful for every bench helpfully placed along the way by the Forest Service on this popular trail.
The trail had changed in those 20 years, too. The last, steepest part of the trail, once nearly a scramble to be taken on all fours, had been closed off and rerouted, replaced by several sets of timber steps and some well-placed rocks. As the trail turned more and more vertical, the stops became more and more frequent. The kids and BC's wife, all in good shape and full of energy, bounded ahead of us and before too long, we heard shouts from the top. Instead of "are we there yet," the cries this day were "are you here yet?" BC kept encouraging me, hung out with me as I took long rest breaks, trying to breathe and will my rubbery muscles to give up the strength to get me up those last two hundred vertical feet. Embarrassingly, many a group of young energetic students passed us on the way up, then passed us again on the way down before we'd even made the summit. Some weren't even breathing heavily.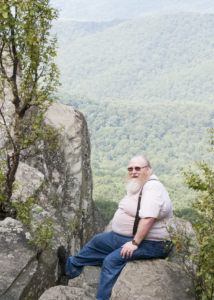 Arrival at the top was worth every bit of the pain and fatigue of the four-hour trip uphill. Adding to the elation and surprise of somehow having made it here was the spectacular view! To the east, spread out before us, was the piedmont Virginia region where I was born and grew up. To the northeast, the southern end of the Shenandoah National Park shined in the mid-day sun. Wintergreen ski resort's slopes were just visible on the mountains nearby.  The day was reasonably clear and the breeze heavenly. The summit rocks are so rugged and broken that it was easy to find shady spots to rest. BC had even brought his guitar, so he and his daughter Isabelle could serenade us and the sizeable crowd always found at the Rocks on a Saturday afternoon. Many pictures were taken as I remembered why I'd made that climb so many times in my youth.
Reluctantly, as the afternoon began to stretch out the shadows, we started down. And here, I discovered the hidden catch. Hiking downhill on a steep slope with big steps, with my sore muscles, proved even more painful (yet somewhat faster) than the climb up had been. My quadriceps muscles screamed at me the whole time. At one point, dropping down over a high step, I came down hard on a locked knee and had a frightening moment of pain, fearing I'd injured the knee and would take forever to get down off the hill. Luckily, though it complained bitterly the rest of the day, there seemed to be no lasting harm to the joint.
The day had become, to me, oppressively hot, though I have no idea what the mercury would have read. BC's wife, Heather, and the kids didn't seem bothered at all. Californians, all of them. The trail is heavily forested, so most of the hike was in shade, but I'd picked up a bit of a sunburn at the top which probably contributed to my discomfort. About two thirds of the way down we were met by Heather, who had already been to the car, turned back, and brought us extra water. It had been nearly six hours since we set out, and my legs, particularly my quad muscles, were in very real pain at this point. When we got to where the cars were visible below, I found a little burst of energy I'd been saving and we staggered out of the forest, blinking, panting, and craving the air conditioning.
The only stats I know are mine. BC had the courtesy and patience to stick with me, the slowest animal in the herd, so we made about the same time.
Trail length: 0.8 mile one way.
Vertical rise: 800 feet, plus a bit.
(That's 60-80 stories, depending on local codes)
Time out: 4+ hours
Time down: 2 hours
Steps: 8853
Calories burned: 5251
It's a bit hard to believe I actually did that. I'll be paying for it for a few days. My quads hurt a lot, and the simple act of rising from a sitting position is an experiment in pain tolerance. But there is a certain pride of accomplishment. I, a great big couch potato, dragged myself up 800 feet and made it down again without the aid of helicopters or paramedics. In terms of lower body strength and endurance, that's the equivalent of a 180 pound man doing that hike carrying another 180 pound man on his back. Being as heavy as I am I'd always thought of myself as something of an invalid; even with my somewhat flawed memory of the trail I'd given myself about a 50% chance of making it to the top. I thought my feet would be the problem, but it turned out that they were the least of my worries. So I gained a fair amount of self-respect from finding that I had this in me.
And spending a couple of days with BC and his family was great and was after all the main goal. We took a bit of time to explore my hometown, which BC had only passed through before. Lunch at Bodo's Bagels, an area landmark, and a bit of walking around the downtown area made for a pleasant Sunday, though walking was a very cautious pursuit for the two sore old guys. Good times were had by all. We'll do it again soon. The kids are talking about caves. 🙂