Last night I found myself driving my car home in the pouring rain, splashing through puddles and wishing my windshield wipers had an "emergency overdrive" setting. A design flaw with my particular car causes any water splashed up by the right front tire to be sprayed directly onto the engine's accessory drive belt. When this happens, the alternator pulley, which rides on the flat side of the belt, slips for a few moments until friction dries up the water. It's an annoyance.

The gauges on my car's instrument panel were designed for someone with the I.Q. of a toaster. In the diagnosis of an electrical system fault, the one gauge that's been provided is so simplistic as to be completely useless. As you can see from the photo, it's labeled "VOLTS." Note, however, that there's no scale at all. Without the ability to relate the needle position to an actual voltage, there's no way to read this instrument in volts. This instrument measures arbitrary, unitless relative EMF.
Note the white and red markings. There's a white range, which presumably represents normal voltage, and two red lines which we might guess represent the high and low voltage danger areas. From the space between the white range and the red markings, we can probably infer that voltages in those ranges are not normal, but also not dangerous.
How is this information useful? It isn't. Without knowing the point on the gauge that represents the lead-acid battery's float voltage, we can't even know if we're charging or discharging the battery. It might tell me that my voltage is "kind of low," but  I don't need a gauge for that. I pay attention. If my lights dim or my ventilation fan slows down, the voltage has dropped. The information I really want is WHY the voltage has dropped, and neither dimmed lights nor an arbitrary gauge will tell me that.
I must conclude that this gauge's sole purpose is to mollify people who insist on having gauges instead of idiot lights, but who also have no idea how to read them.
This has led me to a question. What happened to the ammeters that cars used to have?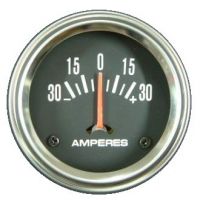 I know that question dates me. There's probably not a single car on the market today that has an ammeter, so perhaps everyone's forgotten what one looks like. An ammeter is an instrument that measures current, generally at a point between the battery and the voltage regulator. It has a pointer that rests at zero when no power is applied. When current is flowing toward the battery (charging), the pointer swings right. When current's flowing the other way (discharging, as when the engine is stopped), the pointer swings left.
Unlike the silly, uncalibrated "voltmeter" in modern cars, this ammeter actually is a useful diagnostic tool. One glance at the ammeter, while driving, is enough to assess the health of the charging system. If the needle is centered or slightly right of center, all is well. If the needle swings left while you're driving, you've lost your alternator (or its belt).
When the engine is idling, you can immediately tell if you're discharging the battery by drawing more current than the alternator can supply at low speeds because the needle will tip left. You can then turn things off (shed load) to get the battery charging again.
Have you ever run your battery completely dead, perhaps by leaving the headlights on overnight? A jump start will get you going again, but you'll need to drive the car for a while to recharge the battery.  How do you know you've driven long enough? With a voltmeter, you guess. With an ammeter, you'll immediately see a very large charging current right after the jump start. You need only drive until that charging current comes back down into the normal range.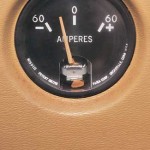 Airplanes still have ammeters. The one at left is from a Cessna, and is showing about 30 amps of discharge, probably because the engine's stopped and the landing lights are on for preflight inspection. I think some large trucks and certain pieces of industrial and farm equipment still have ammeters, too, but I haven't seen one in a passenger car for many, many years. I'm really at a loss to explain why this is so.
Cost could be one explanation. Putting a voltmeter in the instrument panel (especially one that need not be accurate or even useful) is easy. Connect the positive side to any convenient spot in the electrical system, and the negative side to ground.  Ammeters are a bit more complicated because they must be connected at a specific point, and because a shunt is needed to make them work. It certainly doesn't seem like a costly thing to insert a simple shunt into the battery wire and run a two-conductor cable to the instrument panel.  If a lawn tractor can be so equipped, why can't a car be similarly outfitted?
If anyone has any insight as to the disappearance of this gauge from our dashboards, I'd love to hear it. I miss the ammeter.