It's a strange world. Thanks to a blogger or two, the name "Santorum" has now become a neologism, tied to a disgusting definition that turned this writer's nearly unturnable stomach. Such mud-slinging (ugh) is to be expected among the politically zealous, but they've really whipped themselves into a froth (UGH!) over this one.
Meanwhile, a name much more deserving of a nasty meaning, "Schettino," is being allowed to quietly slip over the rail and escape in a lifeboat into the ocean of obscurity. How can this be? It even sounds more disgusting than "santorum," which to my ear simply sounds like a long-term care hospital. "Hey! Move that pile of schettino so I can mop the floor!" That seems much more credible and fitting to me.
From brown, we move to green. In a completely unintentional way, I have joined the "green" movement.
My beloved 2002 Mercury Grand Marquis, which I've had since 2005, finally became a bigger maintenance headache than I could bear in mid-February. It had developed engine problems no less than four times in the last six months, each time necessitating costly repairs which did not permanently solve the problem. I needed reliable transportation.
Months ago, when the car first fell ill, Allison and I had discussed what I might want to get to replace it, and I was sure I wanted another Grand Marquis. I had come to love the spacious interior, the comfortable ride, and the big V-8 engine. I wasn't as fond of its 18-20 mile per gallon fuel appetite, nor did I smile each time I shelled out $70 to fill its fuel tank, but I'd resigned myself to dealing with these issues. My commute is only 9 miles each way.
I'd mentioned to Allison that the only other car that really interested me was the Prius. I'd driven rented Prii many times on business trips, and found them attractive, roomy, and altogether fascinating. I even drove one from Riverside to San Francisco and back once, on a business errand. Both the fuel economy and the comfort of the relatively small car on such a long trip astounded me. There's also no denying the geek credibility afforded by such a technologically advanced vehicle.
We went out last Saturday looking for another Grand Marquis, intending to check the used car departments at the local dealerships first. At one Chrysler dealer, Allison hopped out to talk to a salesman and quickly learned that there were no Grand Marquis available, and happened to ask if they'd seen any used Prii. By chance, there was a 2008 on the lot, and they offered to show it to us. I couldn't refuse.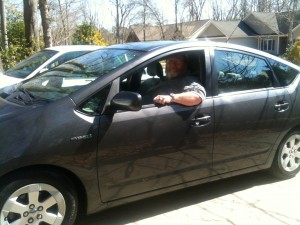 Those of you who know me know that I'm very susceptible to high-tech charms. The moment I sat down in this particular Prius for a test drive, I was in love. Unlike the rented ones I'd driven before, this one was loaded. It had every available option except the Sirius/XM radio (to which I no longer subscribe anyway) and the leather seats (which I abhor). It was apparently in perfect condition. Before the test drive was over, my mind was made up.
Allison worked her magic on the salespeople, getting us a fair price and decent financing. With Allison, people quickly learn that all things are possible. We drove the Prius home and cleaned out my sad, sick old Grand Marquis. Then I took my old friend for one last drive, dropping it off at the dealership with Allison following along in the Prius.
It's been a major adjustment. I still miss my land yacht, which someone once dubbed the "stereo on wheels." My utter fascination with the Prius has helped; it is the most high-tech vehicle I've ever driven that doesn't have wings or a rotor. I've studied online web sites (one of the best is the forum at http://priuschat.com) and learned the quirks of my particular model. (It's a 2008 Generation II Touring Prius with Package 5.) I've also learned the driving techniques which result in the best fuel economy from the Prius, which are counterintuitive but simple. My average fuel economy so far is about 48 miles per gallon. As nice as it is to be "green," I'm even more happy about the "green" I'm not spending at the gas stations.
From green we logically proceed to red, which is the color of my anger at the moment. I can't write about the reason for my anger; that's a mistake I won't repeat. However, I will say that it involves my wife and her career and the morally bankrupt, santorum-smeared sack of schettino that is her supervisor. And with that, we've come full-circle.