I was plugging along at work yesterday, minding my own business, when suddenly my e-mail alert sounded. Someone had posted a comment to my employer's blog, which I manage, and it had been flagged for moderation. I needed to log in and either approve or delete it.
The comment was on a blog story where my writer interviewed me about my history in networked digital audio. The story was accompanied by my picture. The comment read:
Author : Lawrence Baker (IP: 184.12.165.113,
              184-12-165-113.dr02.kgmn.az.frontiernet.net)
E-mail : windcatch@gmail.com
URL    :
Whois  : http://whois.arin.net/rest/ip/184.12.165.113
Comment:
Now that I know where you get your bread and butter, 
you fat son of a bitch, I'm coming after you shit bag! 
You will never be able to hide from me and I am going 
to break you if it takes the rest of my life!
Windgen.org -HuH- You convoluted geek creep!
At first, I didn't really pay much attention to this, but reading it a second and third time, it started to become disturbing. He knows I'm fat, he knows I'm a geek; what else does he know? I decided it was time for some research.
First, I did the polite thing. I replied to his comment.
Mr. Baker,

Thanks very much for your comment, quoted below. I will 
be forwarding it, along with any other information I can 
gather, to your ISP (Frontier) and to the FBI. Have a 
great day.

     Scott Johnson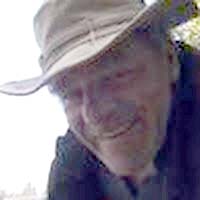 Next, I decided that it was time for some research. I had never heard of Lawrence Baker until this comment arrived, so I started with the Gmail address he'd given. I found it everywhere. He's posted a long-winded, rambling diatribe about some wind turbine he's invented (the Baker WInd Turbine) to every wind and alternative energy forum he could find, attaching that e-mail address in the open. That's not smart on any of several levels.
Some of his online profiles carry a picture. As posted, it's completely unrecognizable, backlit, with the face hidden in shadows. That didn't seem fair to me, so I ran it through photoshop and modified the contrast curve. Hello, Mr. Baker — bet you didn't know all that detail was there!
He mentioned windgen.org, and at first I thought that was his web site, but visiting the forums there, I was surprised to see that he's only a member, and that he's been banned for going on insulting, inflammatory rants there.
Finally, doing some searches for his name AND mine turned up a clue. Some other fellow named Scott Johnson has apparently been following Baker around on the forums, and posting that Baker's turbine is nothing but a scam. Ignoring for a moment that my namesake probably has a point, it seems likely that Mr. Baker, being the type to shoot first and ask questions later, has probably come to the ludicrous conclusion that I'm the one attacking his invention.
Mr. Baker is also widely known on a host of edgy political web sites, and expresses some truly eye-catching opinions there, too, in addition to further showcasing his bad temper and windy tendencies.
Regardless of the value of his invention or the truth of his claims, it became entirely clear to me that Lawrence Baker is a wack job of the first order, and that made his threat at least minimally credible. With that in mind, I visited the FBI / IC3 web site and filed an official report. I also sent e-mails to the security and abuse departments at Frontiernet, the ISP used to post the threat as evidenced by the logged IP address.
I also sent e-mails to several of the people he's gotten into altercations with on the various forums, looking for additional information, and I've informed the administrators of two key forums what this fellow is up to.
I've sent e-mails to several Scott Johnsons in the hope of locating the one who is the true object of his hatred; perhaps that Scott can shed some light on why Mr. Baker is "coming after me."
Mr. Baker, by all accounts, makes his home in the city of El Granada, California, even though the IP address indicates a Kingman, Arizona locale. I imagine he was using a proxy. However, the man was crazy enough to leave his actual phone number on several forum posts: 650-218-9434. That number does resolve to El Granada and areas nearby. He also has a business name, "Baker Wind Turbine Engines," although a quick search for business licenses in the area produced no hits.
This whole thing spooked me a bit yesterday, but today that uneasiness has turned to anger. I can't believe that this loser would threaten me, not even knowing who I am beyond a name that dozens if not hundreds of people share! He has cost me time and energy, and that makes me angriest of all.
I've heard nothing more from our friend in the last 24 hours, but in my spare time, I'm still researching. Stand by. 🙂
UPDATE: 4/2/12, 7:03 AM
I received an e-mail over the weekend from Lawrence Baker. While it still fails to recognize the gravity of his actions, his e-mail does represent a genuine apology and expresses remorse for having made this mistake. I'm willing to accept that, and I consider this matter closed. This blog entry, however, will stay where it is.
This was a mistake, to be sure, but it did happen. It seems very likely to me that such threats may again be directed at people who speak out against Mr. Baker's invention or discredit his work. In fact, the "real" Scott Johnson, wherever and whoever he may be, should probably be checking his six on a regular basis. Should he stumble upon this, I think it's important that he know the backstory.
UPDATE: 6/6/12, 7:03 AM
Mr. Baker is apparently up to his old tricks and is threatening other people. There was, until recently, a discussion thread on the windgen.org Vertical Axis Wind Turbine forum at http://www.vawts.net/, where there were warnings about his activities. One forum post even linked to this blog, which I thought was a good idea. However, it seems that Mr. Baker's gotten to the windgen.org people, too. The entire thread recently disappeared quietly without notice. While I can't for the life of me understand why they would choose to shield and protect the same lunatic they recently banned, I can see no other reason why they'd eliminate potentially important warnings. This warning will remain, at least.
UPDATE: 7/18/13
This guy just doesn't give up. After being warned to communicate with me no further, and advised that his best defense was to stay off my radar permanently, he's on another rant. This time, apparently afraid to contact me directly, he's contacting other people, and telling them to pass along his threats (the last of which says he'll "fillet me out.")  I guess you just can't fix stupidity.
UPDATE: 8/1/13
And now he's trying to get at me through my employer. The saga continues here.