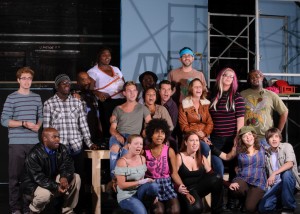 People who know me in any way other than casual acquaintance are probably well aware that my favorite musical is RENT, but to call it my favorite musical is to shortchange its importance to me. Yes, I know how this sounds, but it's true: RENT changed my life. When I first saw it in 1994, in a tiny workshop theatre in New York, it shook me to my very core.
RENT is easy to love but hard to describe. Jonathan Larson, who wrote the words and music, was advised to draft a one-sentence description of the show to help him focus, and he found that to be an incredibly daunting task. He settled on this one: "RENT is about a community celebrating life, in the face of death and AIDS, at the turn of the century."
Larson died from a ruptured aortic aneurysm the night before the show was to open off-Broadway. Prior to that it had only been performed as a "work in progress" at New York Theatre Workshop. He never saw the show we know today, which is in many ways different, performed before a paying audience. His passing gave the cast and crew a powerful emotional commission. Some say that RENT's success was born of tragedy.
I never met Jonathan. Oh, I stood within a few feet of him at the Workshop, and I saw him, but to my eternal regret I never approached nor spoke to him. When I learned he was gone, it gave me a very compelling reason to see the show, his show, in the form he had finally deemed ready for prime-time. Larson's passing also formed part of my connection to the show when I learned that he succumbed to the effects of Marfan Syndrome — my own father died from the same condition, far too young, a decade and a half earlier.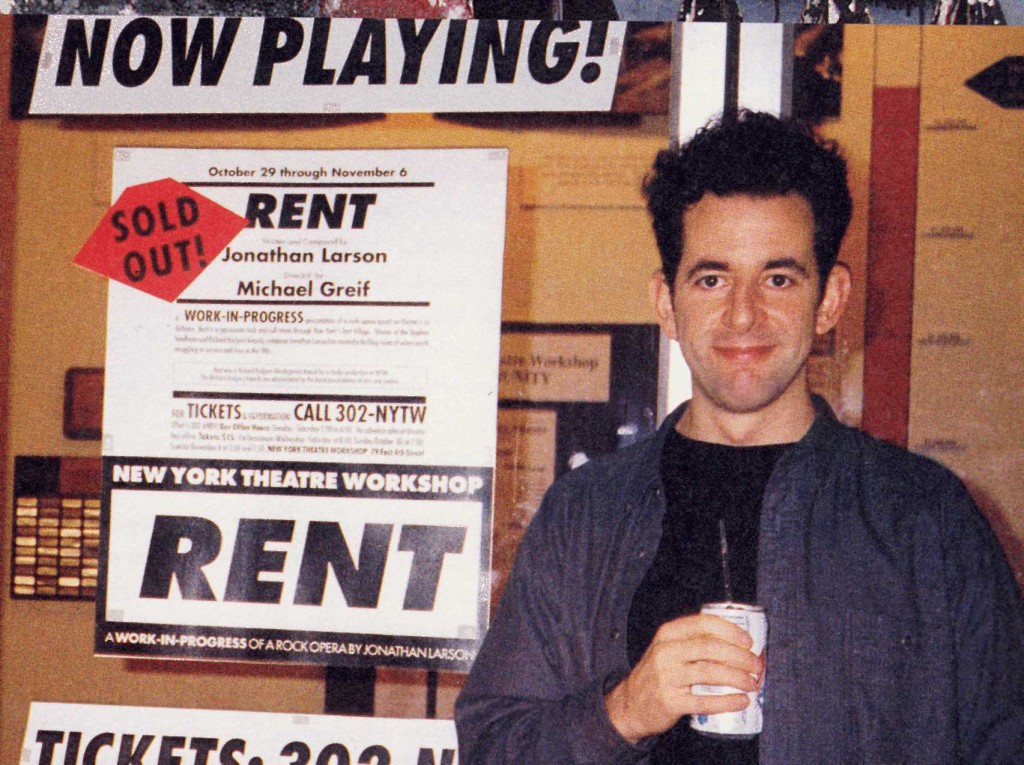 Shortly before he died, Larson wrote:
"In these dangerous times, where it seems the world is ripping apart at the seams, we can all learn how to survive from those who stare death squarely in the face every day and [we] should reach out to each other and bond as a community, rather than hide from the terrors of life at the end of the millennium."
I've lived a comparatively sheltered life. I have never been addicted to drugs or alcohol. I have always had a roof over my head, sufficient food to eat, and the means to secure an education and a job in my chosen field. I have never been persecuted for my sexual orientation. I'm not gravely ill and I'm not dying. I have had my share of failed relationships but I have a wife who loves me. I have friends. I'm richly blessed, I think, and in a way, that's a handicap.
I was brought up in the Christian way by a family that was, by today's standards, unforgivably narrow-minded. I was taught that you worshipped a certain way or you went to hell. I was taught that homosexuality was both a choice and a sin, that addiction and alcoholism were things that people did to themselves, and that we should pray for those people but that they were somehow beneath us. Homeless people were bums, victims of their own laziness. I was a kid; I didn't know any better. I respected my parents so I accepted it all. I drank the Kool-Aid, and that's a perfect metaphor. What I swallowed was poisoning me.
As I grew older, matured, and began to build a life for myself, I discovered that hidden beneath the veneer of what I'd been taught was a solid structure I had yet to discover, an identity of my own. I began to realize how wrong-headed this zero-tolerance way of thinking was. I should not have to embrace hate to believe in God, should I? Did my capacity to love someone have to be rooted in my estimate of their conformance with what my parents and their peers and their generation perceived as right? What followed was a wrenching, rending crisis of faith, of morality, and of my entire belief system that lasted a couple of decades, at least. It was an ugly, bitter struggle which ended when I saw RENT.
I'm an audio engineer, and while doing some very stressful work at the old Unitel Studio 55 complex, someone I was working with told me about the show. I needed to go see it, she said. Repeated questions as to why were met with repeated entreaties to "Just go. See it." So I did.
I walked into that little theatre a confused, ignorant, misguided man programmed with certain reactions. When I saw a gay cross-dresser dancing across the stage, I knew I was supposed to feel uncomfortable, but I found myself smiling and laughing. When Angel and Collins kissed, I knew I should experience revulsion, but it didn't come; instead, I felt joy. Each of the musical numbers in the show held something I could identify with, something I could gain insight from, something that broke down a wall or opened a window. This show held more reality in its pages and staves than anything I'd ever known. I sat, tears streaming down my face, as I saw the characters face conflict, face disease, face persecution, face death … and celebrate life. I could feel the shaking and almost hear the sound, like crumbling stone, as the walls built by years of cognitive dissonance dissolved to dust around me. That night, I sat in my hotel room, sleepless, replaying in my head what I'd heard and seen, and feeling the pathways of my mind realigning. Forget regret, or life is yours to miss.
A year or so later I found myself working in a series of situations that required travel; a great deal of that travel took me to New York to do work at network television facilities, recording studios, post houses, and radio stations. Almost every time I found myself in the city, I managed to see RENT, which was now a Broadway hit. I developed a deep and abiding love for the show and its characters. I got to know them. They became my friends.
Sometimes, when work allowed, I'd enter the lottery and try for a seat in the first two rows. Other times I'd get tickets through Ticketmaster, or take what I could get from the TKTS kiosk when funds were tight. If I could convince someone to go with me, I brought them along, because it was rewarding to me to share the experience. Almost every time, I noticed something I'd previously missed: a line, a gesture, or something in the background. And of course, anytime one actor replaced another, a little something new was brought to that role.
The show underwent a gradual metamorphosis as cast members, musicians, and crew came and went, but the message and its impact on me were always the same. I came to identify strongly with the character Mark, who absorbs himself in his work, isolating himself from life's joy as well as life's pain. I also never failed to shed tears when Gordon, a supporting character I also see a lot of myself in, delivered his gripping line about intellect and reason versus hope and affirmation.
Fast-forward to August, 2012. I have now seen RENT performed 26 times. One of those was the original workshop show. Twenty were on Broadway at the Nederlander Theatre, and five were touring shows in Atlanta (twice), Huntsville, Boston, and Los Angeles. I have DVD copies of the final 2008 Broadway performance, which I love, and of the Chris Columbus film, of which I am not very fond at all, despite its authentic cast and beautiful visuals. I have become what many people call a "RENThead," and I wear that label with great pride, even though it's often used pejoratively.
One of my co-workers was in my office one day recently and noticed the mounted, original RENT poster that hangs on my wall. He casually remarked that he was going to be playing guitar in a local production soon. I nearly fell out of my chair! I knew the show must have already been in rehearsals for months, but I quickly sent an e-mail to the theatre group anyway, asking if I could help in any way and hoping not to sound too desperate. Fortunately, they found a place for me.
How naive was I to think that RENT would change my life only once?
The last couple of weeks have been a series of welcome challenges. I shot and edited headshots for all 19 principal and ensemble cast members, which were needed for display in the theatre lobby. I also shot over 500 frames during various rehearsals, and picked the best 70 or so as production stills. Best of all, the director asked that I shoot and edit two pieces of film that appear in the finale of the show — Mark's film! And despite a sound designer and crew having already been assigned, I was able to consult on sound as well, thanks to the patience and willingness of that crew to accept my input.
Along the way, I have met some wholly remarkable people. I will be honest about my initial expectations: I thought I'd have to bite my tongue and endure a lot of compromises in this, the first local production of my beloved musical that I had ever seen. Instead, I find myself marveling at the fact that these local actors really understand their roles. They own the characters they play; they portray them faithfully even as each brings a bit of himself or herself to the performance. To me, someone who is really, really picky about RENT, this cast is perfect, and I feel extremely lucky to be working with such talented people. The crew are also very dedicated, professional, and committed. I am honored to have made such a beautiful group of souls my newest friends — no, family members.
Despite my late arrival and my obsessive RENThead nature, everyone on the cast and crew has welcomed me, and for the first time in my life, I have the feeling of being part of a RENT family. Sometimes, when I'm working hard, I am too focused to notice just how special that is. But when I have time to sit and reflect, I am almost overwhelmed. The two shows I've just seen have been more powerfully emotional to me than the first 26 were, because I'm inside them, playing a small part in making the magic happen. I know that the next three will be just as amazing.
This past weekend, I saw RENT performed to a sold-out house both nights — something I hoped for but could never have expected. In a small town situated squarely in the Bible belt, acceptance triumphed over prudishness. I'm proud of New Bern! While many small towns actually cancel performances because of outraged audiences, our town is actually adding a fifth performance to the schedule!
I'm looking forward to this weekend's three shows, but perhaps more than the actual performances, I will treasure the experience that got us here. Like that first performance in 1994, this journey will leave me not quite the same as I was before. The memories will be a part of me for the rest of my life.
At the end of a show, there's a lot going on. The audience wants to meet and greet the cast, equipment needs to be put to bed, and people are running in every direction. There's not a lot of time to express the feelings that RENT always brings out. I'm sure on closing night, emotions will be running at an all-time high, so let me say this now. To my new friends, the cast and company of RENT, congratulations, and thank you. You have performed RENT beautifully, with integrity and style, and you have made a RENThead's dream come true. I am in awe of every one of you.