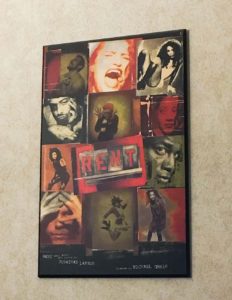 In August of 2012, a couple of years after my career brought me to New Bern, North Carolina, one of my co-workers came into my office to discuss something. He noticed the mounted RENT show poster on my wall and casually mentioned that he was about to play guitar in the band for that show.
My jaw hit the floor. Until that moment, I hadn't really known anyone was producing musicals in the sleepy little town I'd nicknamed "Mayberry." And this one, which was for me the musical to end all musicals? HERE?
I had him put me in touch with the theatre, and minutes later I was on the phone with Angelina Doyle, the executive director of New Bern Civic Theatre. She put me in touch with the director, John Van Dyke, and I found myself very quickly involved with the production in a variety of ways. The sound design, which I wasn't part of, was very informal and suffered many compromises, and technically and operationally it was a huge change from the professional and even community theatre I'd done before, but I quickly felt something I hadn't encountered in any situation before: a sense of family.
At this point, in a piece like this, I'd usually use a device like, "Fast-forward five years." But I don't want to use fast-forward here. Those next five years — the last five years of my life — were a roller-coaster of ups and downs, a steady stream of accomplishments and failures, of harmony and discord, of great shows and good shows.
Recently, circumstances best not discussed here led me to make the voluntary but necessary decision to sever ties, first with Rivertowne Players, and then a few months later with New Bern Civic Theatre. And with that, it would seem that my days of mixing musical theatre in New Bern are at an end.
Rivertowne, or at least its board, was apparently not troubled in the least by my departure. They never even replied to my letter. Civic's executive director, someone with a heart and someone with whom there is mutual respect despite our differences, did have some kind parting words.
Even though this was my choice entirely, I feel a great sense of loss. If you know me, you know that mixing is my thing. Mixing live theatre was a way to use the knowledge, experience, and expertise I've built over more than 30 years as an audio engineer for a purpose I believed in. When the music sounds bad, musicals aren't musical, and I knew I could change that.
All I could do on RENT 2012 was consult. I took the cast head shots, shot Mark's film segments, got a series of production stills, and helped the sound crew. When the (apparently paid) A1 couldn't mix the additional show that was added by popular demand, I was asked to step in, and since I know the whole show by heart, that turned out to be a great experience. I made a lot of friends during that show. Some I still see and work with often. Others have moved on. I still love them all.
A straight play directed by Bill Hand was next. I was asked by the sound designer to serve as a sound technician, which meant mixing the show. It was a production of The Rainmaker, and on that show as well I met several people who are still among my friends.
From that point on, one show seemed to lead to another. Whether it was testimony to my skill or expertise or just my willingness to volunteer, I'll never know, but I found myself in great demand as a sound designer. Actors, theatre companies, and directors began to ask me to come handle sound for their shows. There were huge hits where the house was packed every night, and there were really good shows that were sparsely attended. Some of my favorites:
RENT: Unforgettable in 2012. A repeat performance in 2015 saw me taking the role of sound designer, and I'm extremely proud of my work there. And in 2017, I was given the fulfillment of a dream: the chance to assistant-direct the show at Carteret Community Theatre, under the wonderful Judy Long. It was hard, it was emotionally tortuous, it was grueling, and I loved every single minute.
Knowing my fondness for RENT, Allison also volunteered to help with the show in 2012; at that time, help was most needed in the green room, and to the mostly young cast she was their "Green Room Mom." For the last performance that year, she was beside me in the booth helping with cues, which was the first time we actually worked together as a sound crew. She remained with me through most of the theatre productions I worked after that, learning very fast and helping with wireless mics backstage. By the time I took the role of sound designer for the 2015 production, she was already a fully qualified A2 and was absolutely invaluable to me.
Songs For A New World: Ratio, a theatre company that no longer exists, produced and performed this show at the History Center's Cullman Auditorium. Two wonderful local artists (Andrea Owens and Jeff Bashford) took the stage accompanied by two aspiring professional actors visiting from New York City (Catherine Greenfield and Jason McCollum). The show, musically challenging and beautifully written by Jason Robert Brown, was absolutely breathtaking. And it was badly underattended. Seeing these people sing their hearts out to half-full or nearly empty houses reduced me to tears some nights. But I MacGyvered together a great sound system, worked closely with director Joey Infinito, and nailed the soundtrack. I wish you'd been there. Thanks to those who were. New Bern director Alan Berger gave me some very welcome praise when he came to the show.
Joseph and the Amazing Technicolor Dreamcoat: I'd worked this show before, at a dinner theatre in Virginia, but this production far outshone even that professional show. Judy Long directed, and I had a great time with this one.
Pippin: A challenge, a laugh a minute, and a truly pleasant experience directed by John Van Dyke, director of RENT 2012 and 2015 and by now a good, valued friend, this show is a very fond memory. Kyle Preston was a great Pippin!
Annie: Director Judy Long brought me in right in the middle of the show's run, after the first weekend. The person running sound was not doing well at it, and she knew me from previous work. Under tremendous pressure I stepped in, and with the help of a great assistant, managed to improve the sound of the show. This was my first time working with the very talented Grace Murdoch, Meghan Lucas, and several others I would get to know much better in coming years.
Les Miserables: When director Judy Long asked me to work this show, I knew something incredible was going to happen. And I was right. Her direction, the cast, the crew, and the creative team came together like the perfect storm, and this show was absolutely Broadway-quality from start to finish. It was a true milestone — I've never worked anything like it, amateur or professional, before or since. It was a masterpiece. Was it a challenge? Yes — I even had to buy a new console in order to have enough channels for the 30+ microphones used on the actors. I still own that console. I was so obsessed with making it perfect that I actually had a panic attack before the final show, fearing I'd screw up. I didn't. I'm prouder of this show and my part in it than I am of most anything else.
In The Heights: John Van Dyke begged me to work this show. I turned it down, for what turned out to be stupid reasons. I thought it was all about rap. I didn't need more rap. I'd worked enough rap sessions in Atlanta to be wary and angsty about them.
I worked on another show instead around the same time, one I knew well and thought would be a better fit. As it turns out, while that show was well produced and directed and I enjoyed working it, my expecatations about In The Heights were completely opposite reality.
Shawnee Martinez took the job of sound designer on In The Heights. She's a wonderfully intelligent, astute young lady I respect very much, and had worked with many times before. She gets it. She did a great job, but due to a sudden change in her schedule, she couldn't mix a few of the shows. So I found the time in my schedule to step in for her. The awesome Kelly Rogers worked book with me, and we pulled it off. To my very great surprise, I LOVED THAT SHOW. I wish I'd been with it from the start. I should have listened to John. Songs from it still play in the soundtrack of my mind.
Young Frankenstein: I loved the movie, I loved the show, and what I remember most about this one was the innovation that went into presenting it well. There were rotating bookcases, great drops, superb lighting effects, and superb comic moments. George Oliver as Frankenstein gave me fits of laughter as the monster. I spent many, many hours custom-developing many of the sound effects used in the show, and getting them timed right (and wrong) was a hoot! And George's young daughter, Abigail Oliver, was my enthusiastic, eager assistant in the booth. We had a blast. Abigail lost interest in sound soon after that, but not before…
Working: After the first weekend of this wonderful show, a death in my family forced me to leave town. The show itself was a wonderful experience, but I must say my very best memory of it is the way my friends stepped in to cover me. Abigail Oliver, I'm told, mixed the show beautifully in my absence, assisted by her dad on book. Working will remain one of my favorite shows, and I greatly enjoyed the performances I was there to mix.
Jekyll & Hyde: This was my final show with Rivertowne Players. It was a tough show to mix well, and in some areas I was severely restricted in what I could do, but it was an incredibly enjoyable show, and my first with Neil Oliver who played the title role superbly. The console on which I mixed the show was one my wife Allison located and procured for the theatre, replacing their severely undersized house console (a Mackie 1604). I didn't expect to be ending my time with Rivertowne, but I'm glad my last show went well and ended things on a very positive note.
Elton John & Tim Rice's Aida: This was my final show with New Bern Civic Theatre. I mixed it on their Allen & Heath Qu-32, a console they purchased a couple of years ago, in part due to my endorsement of it. This was a well staged, well directed, well acted, well sung show starring Ciara DiNapoli, one of this town's most brilliant actresses and voices and someone I think most highly of. Actually I'm just crazy about her, as I am about many of the actors and actresses I've worked with over the years. It was also Katie Dixon's first show in New Bern, and I'm crazy about her too. The show was a joy to mix, contained music that was a blast to hear and work with, and showcased the level of talent this town has to offer. The set was an egyptian masterpiece designed by Neil Oliver and his wife, Claire. Even though some of the reasons for my departure took place during this production, I cannot think of it as anything other than a brilliant show. Again, a good one to go out on.
And now, aside from the occasional show at Carteret Community Theatre, a group where I have felt at home since Annie, I'm out of theatre. The loss is painful, but the move was necessary. I regret the effects, but I don't regret the decision, if that makes sense. It was the right thing to do.
I'm not going to discuss reasons here, but I do know that there are stories being told. Some are false. Others are wildly and conveniently inaccurate. I'm amazed that people assume the gossip won't reach me. If you know me, just ask me about it and I'll tell you the truth, the whole truth, and nothing but the truth, so help me God. But not here.
This to my theatre family past and present: working with you has given me great and lasting joy. Sitting behind that console, letting your golden voices and the sounds of your instruments flow beneath my fingers, listening to your exquisite harmonies, has made me the happiest I've been since I moved to this town. Someone remarked a few months ago about "the smile." When I come down from the booth after mixing a great show, I usually do have a huge smile on my face. It's partly pride in having done the best job anyone in that chair could have done. It's partly joy that the show itself has beamed into me. And it's partly knowing that many people … those people on that stage, in the booth with me, in the wings, in the dressing room, and in the audience … many of those are my friends.
Knowing my wife, the best of those friends, was back there keeping things together as my finest and most trusted A2, always gave me tremendous peace of mind. Without her, I would have made little or no difference in how sound was run in the local theatres. I hope her legacy … and mine … will survive.